endangered species? a brief history of GAMMACIDE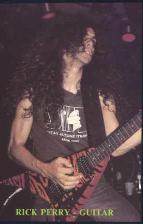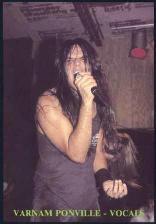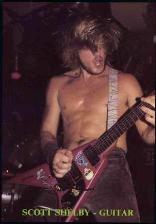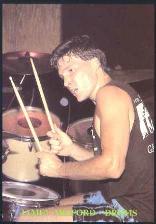 The GAMMACIDE story begins in late 1986 when D/FW metal band Warlock disbanded. Warlock had been a popular local band, playing a mixture of original material and covers by bands like Judas Priest, Iron Maiden, Metallica, etc. Rick Perry (guitar) and Eric Roy (bass) wanted to form a new band that combined their old-school influences as well as taking cues from the early underground thrash movement. They rehearsed with Jamey Milford (drums) for several months before they met Varnam Ponville (vocals) at a Rigor Mortis show. With the Texas sun beating down on their sweltering garage, GAMMACIDE wrote a series of minor thrash metal classics: "Endangered Species," "Shock Treatment," and "Incubus." They also re-vamped some songs from Warlock: "Gutter Rats" and "Walking Plague." These early efforts showed that a definite GAMMACIDE style was evolving: chop-monster riffs, tortured lead breaks, drums that alternated between thunderous double bass and hardcore style blast beats, and lyrics that avoided fantasy and instead focused on the morbid aspects of reality and science.
On March 21, 1987 GAMMACIDE made their live debut at a small gig in Fort Worth. Two weeks later at the Arcadia Theater in Dallas, they opened the show for Rigor Mortis and Watchtower. Playing this well-attended show enabled GAMMACIDE to boost their local fan base quickly, and the foursome continued to play anywhere and everywhere they could in the D/FW area. For a detailed listing of GAMMACIDE's live performances, see the timeline page.
Local music rag Jam held one of those infamous "Battle of the Bands" in early 1987. Corny as it sounds, almost all the local bands of the time participated, including Talon, Hammerwitch, Rotting Corpse, Oliver Magnum, and a host of other groups ranging from thrash to glam. Through a series of semi-finals, GAMMACIDE made it to the final eight, the prize being recording time and one song on a local compilation cassette, Metal Cruelty. This is a different version of "Endangered Species" from the one on their demo.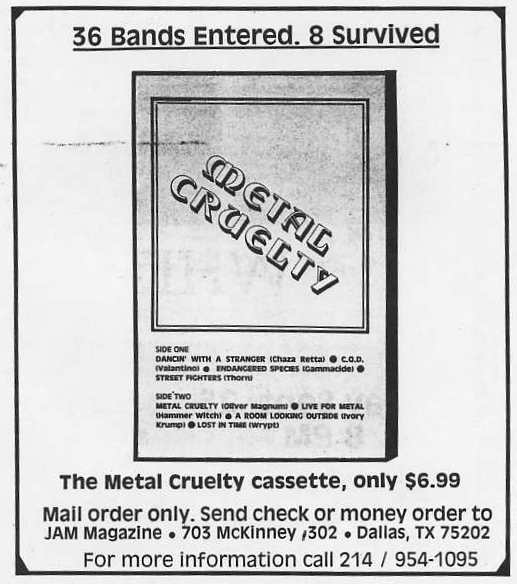 In the summer of 1987, GAMMACIDE recorded their debut demo at Pantego Sound Studios. Pantego was at the time run by Jerry Abbott, father of Pantera's Vince and Darrell Abbott. Although Jerry was mainly a producer of country music, his experience with the early Pantera records made him the producer of choice among local metal bands. When it was complete GAMMACIDE released the demo to the public and sent it to every underground zine and radio show they could find an address for. Rave reviews followed in Kerrang, Blackthorn, Morbid Mag, Metal Forces and countless other zines worldwide. This precipitated an avalanche of fan mail, and as a result the GAMMACIDE demo was a favorite among listeners in virtually every country that sported a metal scene.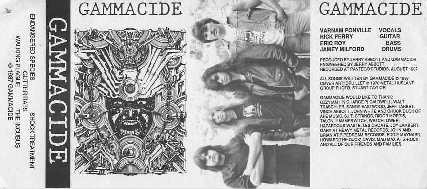 New Renaissance Records selected "Shock Treatment" to appear on a compilation LP Thrash Metal Attack II.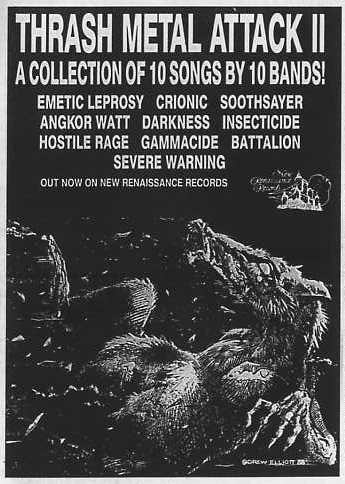 During this time GAMMACIDE continued to play live throughout Texas, building their following one demo and T-shirt at a time. Tapping into the then-emerging Texas underground scene, GAMMACIDE gigged frequently with fellow D/FW bands Rotting Corpse, Hammerwitch, Solitude Aeturnus, Arcane, Morbid Scream, Rigor Mortis, Talon (later Sedition) as well as playing shows in other parts of Texas with the likes of Dead Horse & Academy Black (Houston), Angkor Wat and Devastation (Corpus Christi), Watchtower (Austin), Acridity (Victoria) and many others, as well as forging on into Oklahoma and Louisana.
Finding the one-guitar format limiting, GAMMACIDE decided to draft in a second guitarist. Scott Shelby was a friend of the band and and joined the band in November of 1988. Scott's frenzied lead and rhythm playing boosted GAMMACIDE's intensity levels and increased the possibilities of harmonies, dueling leads, etc. The five-piece continued gigging throughout Texas as well as opening up for many of the major underground bands when they came through town, such as Death, Sacred Reich, Dark Angel, Morbid Angel, and Exodus.
In the summer of 1989 entered Sound Logic Studios in Dallas to record Victims of Science, which was released in early 1990 on LA's Wild Rags Records. Metal Forces magazine called GAMMACIDE's vinyl debut "Excellent... like an incendiary bomb encased in vinyl... the potential to incinerate any stereo."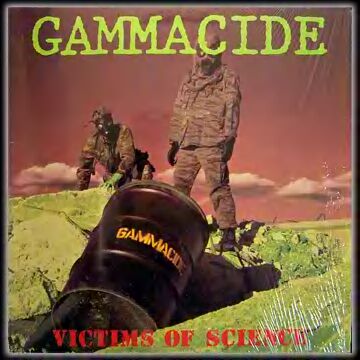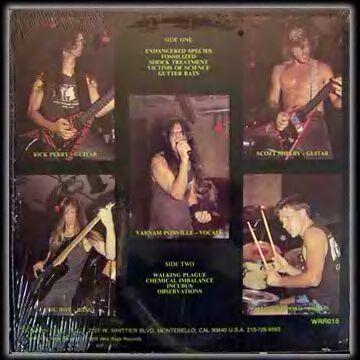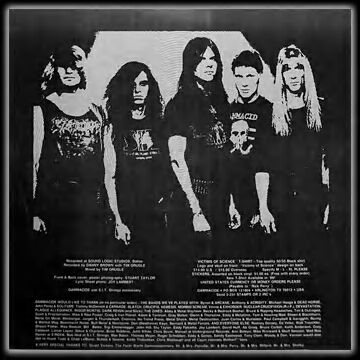 above: inner sleeve / below: poster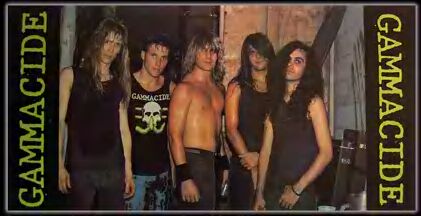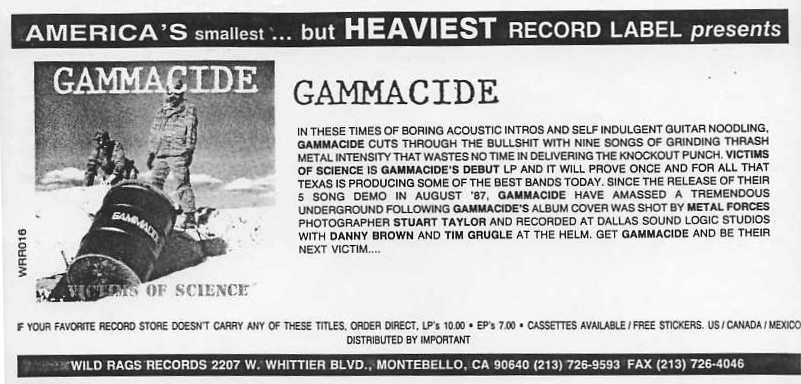 Victims of Science featured the following songs: "Endangered Species", "Fossilized", "Shock Treatment", "Victims of Science", "Gutter Rats", "Walking Plague", "Chemical Imbalance", "Incubus", and "Observations". Check out the AUDIO page for samples of four of the tracks.
Although he played on Victims, Eric Roy left the band before the album was released. GAMMACIDE went through a series of bass players for the remainder of their career. Blade replaced Eric, but left the band six months later. The bass spot was occupied for one month by Ghames Jones of the Oklahoma band Forte. Mark Powell took over on bass next but eventually he too departed, and Blade returned.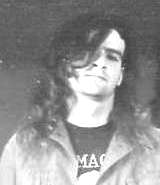 Blade (left) and Mark Powell
GAMMACIDE followed the release of Victims with an onslaught of live shows throughout Texas, Louisiana, Oklahoma, and a journey west to Arizona and California. In Phoenix, GAMMACIDE played with labelmates Nuclear Death, before moving onto Los Angeles for a gig with Oliver Magnum and Insecticide. Heading north to Oakland, California they played a couple more shows with another Wild Rags band Hexx, including a gig at the Omni Theater which was attended by members of Sadus, Autopsy, and Testament.
Upon returning to Texas, GAMMACIDE continued to write new material and play shows throughout their home state. They took their royalty check from Wild Rags and recorded 4 songs which they intended to shop to other labels in the hopes of securing a better deal. This turned out to be the extremely powerful "91 demo", a collection of four songs which took GAMMACIDE's aggressive thrash approach to new levels of intensity and brutality. Check out "Crackdown" and "Sex Cult" on the AUDIO page for a glimpse into where GAMMACIDE was headed at this time.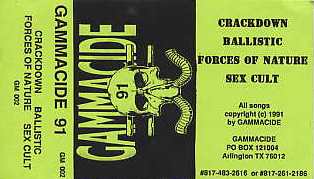 Unlike their first demo, this release was not widely circulated through the underground. It was sent to a few key zines and labels only. Unfortunately by this time the "thrash wave" had peaked and most of the indie labels were only interested in death metal or grindcore. GAMMACIDE's vicious brand of thrash was suddenly out of fashion. Although it would have been very easy for the band to start down-tuning their guitars and grunting out cookie-monster vocals, GAMMACIDE refused to jump on the bandwagon and stuck to it's old school roots. They continued to pack local gigs with loyal thrashers until they disbanded in late 1992.
Following the demise of GAMMACIDE, Rick Perry explored his interest in industrial music with Puncture, who released two CDs and toured with GWAR. Varnam moved moved back to Louisiana and formed Cauldron, a thrash outfit with doom influences. Scott Shelby played with Hammerwitch, while Blade formed a series of local bands including Rugburn and Nipple. Jamey moved to Colorado and has recently joined a Christian rock group. On Valentines Day 1998, GAMMACIDE reformed (minus Jamey) to play one show in Fort Worth, following sets by Nipple, Cauldron, and Puncture.
HOME NEWS MERCH BIO AUDIO IMAGES PRESS TIMELINE GUESTBOOK MYSPACE LINKS